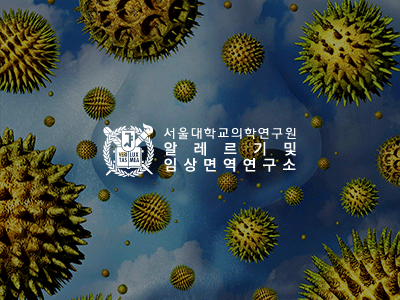 Institute of Allergy and Clinical Immunology
Allergic and immune diseases have high morbidity in the developed countries such as the US, West Europe, and Japan, while the morbidity has been rapidly increasing worldwide as well as in Korea. In response to the lack of manpower, facilities and organizations to cope with such changes in the past, the Institute of Allergy and Clinical Immunology was established in February 28, 1997 under the Medical Research Center, Seoul National University. The institute has conducted researches and trained professionals in the clinical immunology field.

The institute has conducted epidemiological investigations into the prevalence of allergic and immune diseases related with the health concerns in Korea, and studies to identify the pathologic physiology and pathogenesis of these diseases.

This study will lead to development of efficient and accurate diagnosis and effective and economic treatment of the diseases. As a leader in the field of allergy and clinical immunology, which has been a wasteland in Korea, the institute aims to fulfill its role as a specialized research institute for allergy and clinical immunology by elevating its research capabilities to internationally competitive levels and carrying out advanced research.